Fauda, the Netflix smash about a ruthless Israeli unit hunting down terrorists has glaring omissions and is overwhelmingly narrated from an Israeli viewpoint… 
Netflix, which has 109 million members across 190 countries, describes Fauda as 'a global phenomenon'… It joins other Israeli programs featured on Netflix, HBO, Hulu…
In Fauda the concept of right and wrong gets erased, the illegality gets erased… It just becomes this action-packed show…
Excerpted from an article by Rachel Shabi published by the UK Guardian
Fauda is mostly in Arabic and Hebrew, but that hasn't limited the appeal. Netflix, which has 109 million members across 190 countries, describes it as a global phenomenon – one of a string of Israeli successes. Netflix has already commissioned other shows from Fauda's creators, journalist Avi Issacharoff and Lior Raz, who served in the Israeli undercover unit on which the series is based…
Fauda is frequently credited with evenhandedness over the Israeli-Palestinian conflict and attempts to humanise Palestinian terror operatives. But that's in the eye of the beholder… For an Israeli Jewish audience, Fauda does break new ground. "It's the first TV series that showed the Palestinian narrative in a way that you can actually feel something for someone who acts like a terrorist," says Itay Stern at Israel's Haaretz newspaper. "You can understand the motives and the emotion and that's unique, because until that point you couldn't really see it on TV." At a time when Israelis rarely seek out Palestinian viewpoints in real life, much less on TV, this may explain why Fauda's creators initially struggled to find a domestic outlet for the series…

Fauda ignores Israel's brutal occupation
But none of that gets away from it being overwhelmingly narrated from an Israeli viewpoint, focused on the Israeli protagonists. The Israeli occupation is nowhere to be seen – there's no wall, no settlements or settlers, no house demolitions, only a few small checkpoints and none of the everyday brutalities of life under occupation. Yes, it shows that Palestinians love their mothers, but it also renders them as violent fanatics without a political cause.
Fauda's creators have said they want to show that everyone living in a war zone pays a price, but such portrayals of an equality of suffering are ripe for criticism in the midst of an asymmetric conflict, in which one side is under occupation. This is more acutely obvious at a time when international media has focused on Israel opening fire on unarmed protesters near the Gaza border earlier this month, killing 58 Palestinians, including children, and wounding over 1,000 in a single day.
Diana Buttu, a Palestinian-Canadian human rights lawyer and former spokeswoman for the Palestinian Liberation Organisation, points to another problem with Fauda. "If you're not careful, you find yourself drawn into the assassinations, you get lured into the cat and mouse," she says, of a series that essentially depicts targeted killings. "The concept of right and wrong gets erased, the illegality gets erased … It just becomes this action-packed show."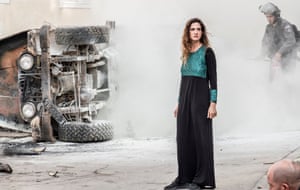 This kind of blurring brings to mind US war-on-terror films such as Zero Dark Thirty, with its depiction of Osama bin Laden's capture serving as a PR exercise for the use of torture during interrogations. Meanwhile, Fauda's Isis storyline stretches credibility, at the same time feeding the worst stereotypes. "It's a bit lazy. Isis is not really active in Gaza or the West Bank," says Stern. Buttu adds that the effect is to reinforce the absence of a Palestinian cause. "We don't have any legitimate grievances. It's all Islamic-driven," she says, noting that it "turns Palestinians into irrational figures who want only to kill Israelis".
Claims by Raz that writing the series was his real therapy, after suffering with PTSD, help locate Fauda in an Israeli genre dubbed "shooting and crying" – laments over the effect of wars on the morality and sanity of Israelis fighting them. But Fauda is different. Let's call it "viewing while cursing", into which category we can also place the US hit series Homeland.
Both dramas rely on protagonists entrusted with critical jobs despite routinely reckless behaviour. Both test your patience. In the case of Fauda, it's not just the politics but also the relentless machismo; midway into the second series it feels like watching interchangeable rooms full of men in guns and distressed denim, each at some point telling a female character: "Don't worry, I'll get us out of here."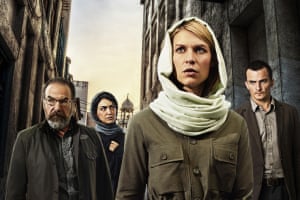 Netflix, HBO, Hulu feature Israeli films
Yet both shows get you binge-watching, despite irritating plot holes, political sanctimony and misrepresentations of Muslims or Palestinians. It's a bit like speed-reading a cheap thriller, ignoring the bad dialogue and badly drawn characters, along with the mounting self-loathing over the time you're squandering, just for the sugar rush of the story's end.
Small wonder, then, that all eyes are on finding the new Homeland, itself based on an Israeli TV series, Hatufim. And it's not surprising that the quest is focused on Israel, which has spawned a string of international hits, starting with In Treatment, a 2008 HBO adaptation of the Hebrew-language Be Tipul. In 2016 Neflix started airing Mossad 101, about Israel's intelligence service, while earlier this year Hulu nabbed False Flag, a conspiracy thriller loosely premised on the 2010 assassination of Hamas official Mahmoud al-Mabhouh, widely thought to be the work of the Mossad, by a hit squad carrying foreign passports.
HBO bought The Oslo Diaries this year, covering the secret negotiations between Israelis and Palestinians that led to the 1993 peace process agreements. And last month, the Israeli drama When Heroes Fly took best series at the inaugural TV festival at Cannes, for its depiction of another Israeli commando unit, this time set partly in Colombia. In March, the Israeli media company Keshet International launched a $55m (£41m) fund for drama, hoping to create the next Homeland.
Similarities are drawn with Denmark, home of addictive global hits The Killing, Borgen and The Bridge – another country whose tiny domestic market has concentrated creative energies on producing internationally relatable stories.
According to Itay Harlap, author of Television Drama in Israel: Identities in Post-TV Culture, the country's successes are down to on-demand and satellite formats loosening the constraints of terrestrial TV: "It was difficult to find radical TV shows in broadcasting, because of concerns over advertising and offending people ideologically." Now, series-makers are after buzz rather than ratings, knowing they can explore new ideas and sell overseas. "It's quite amazing that the government is going in one direction and TV series are going in another."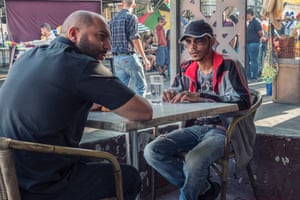 As it is, the second series [now the third series is also out] has left many feeling it missed an opportunity to show the realities of the Israeli occupation. "They did some brave stuff but it is not a mirror of realities in the West Bank," says Stern. "It's a shame, they could have done it and people would have loved the show anyway."
---
Rachel Shabi is the author of "Not the Enemy – Israel's Jews from Arab Lands"
---
RELATED:
Life under Israeli occupation – daily, incessant ordeals
Israeli occupation: a nightmare from which there's no waking up
Israel would get far more than $38 billion under the new deal
Short video explaining the basics, narrated by author Alison Weir: